You are here

Our Wealth Optimization Process
Our Wealth Optimization Process
Our methodology for serving clients consists of a disciplined yet flexible process that allows us to help clients enhance, protect and sustain their wealth. We walk clients through our Wealth Optimization Process which has the eight dimensions shown below:
WEALTH OPTIMIZATION PROCESS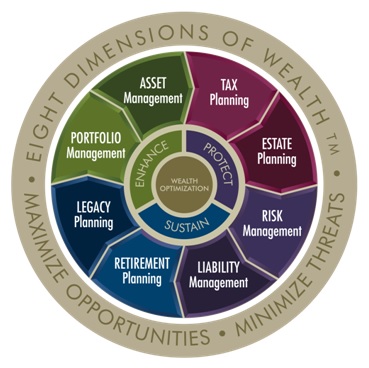 The Core of Our Wealth Optimization Process™
ENHANCE WEALTH. Enhancing wealth is about identifying and maximizing opportunities that are available. It is about working with a wealth professional to discern the diverse and full range of assets and potential income sources. It means making smart decisions as to how to best manage your family's assets.
PROTECT WEALTH. Protecting wealth is about minimizing threats that can adversely affect a family's wealth. It is about managing risk in a prudent and cost effective way. Risk comes in many forms. It can easily be overlooked until it is too late to avoid. Protecting wealth requires insight and foresight.
SUSTAIN WEALTH. Sustaining wealth is about stewardship. It is about managing one's resources with an eye toward the future. When it comes to generational wealth, sustainability depends on the extent to which a family's values are passed on from one generation to another. Stewardship calls for a strong sense of purpose. It requires a clear and meaningful vision: one that is embraced by those who will carry our torch in the future.